Aravina Weddings – Highly recommended says Joanne Armstrong
Aravina Weddings have got to me my favourite in that this gem of a venue boasts EVERYTHING you could possibly wish for in one location.
Have you ever had a chance to venture to this winery and have a look around? If and when you do, you're spoilt for choice! Not just the most opulent view over vineyards and backdrop perfect for a traditional wedding, there are rolling green lawns, gardens to mill around – AND this is not even touching the surface! Aravina Estate also provides excellent cuisine through it's restaurant, there is a gallery/shop you can do some serious damage to your wallet in, foyers, meeting spaces, ballroom and classic car showroom… need I say more?
A recent wedding at Aravina Estate saw all of us relaxed and happy – I think I even jumped out of the bushes and gave one of the page boys a fright and tickled him almost to death at the rehearsal.
The wedding was magnificent on the day thanks to the Gods above being kind, the audience being even kinder and laughing at my jokes, Hadassah and Andre from Morris Entertainment cracking me up with their jokes – and Tennille and Danielle just having an outright blast. As weddings should be.
Here is my favourite pic by the brilliant photographer BEN YEW!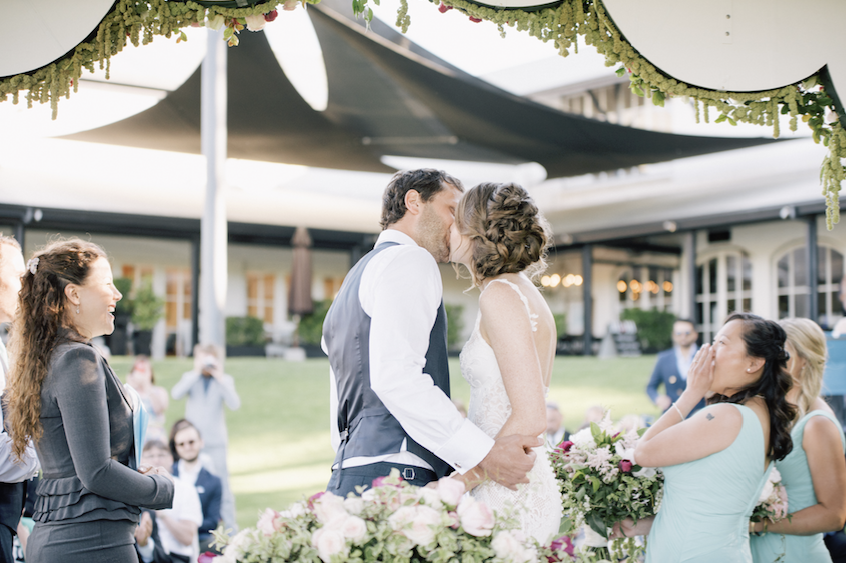 A brief testimonial too from the day …
Both my now hubby and I are not from Margaret River or even WA, so finding a celebrant that would suit us perfectly seemed impossible and was based purely on newlyweds online reviews. From the moment we chat with Jo we knew instantly that she fulfilled every promise in all her amazing reviews. Jo is fun, young, fresh, casual yet professional and super enthusiastic. What I'm most grateful for is the push Jo gave us to write our own vows. It was tough but it really made our ceremony just that more personal, heartfelt and special knowing those words were straight from the heart. All our guests also commented on how relaxed and personal Jo made the whole ceremony, throwing in some humour of our life together. She really is a great chick and so very relatable, who just wants your day to be exactly you. Like most have already said, Jo now feels like a good friend who you could spend the night chatting with over a good bottle of wine, cheese and crackers. Thanks for making our day absolute perfection
…If you are interested in booking your wedding ceremony or other even in Margaret River and surrounds, or even overseas, do not hesitate in asking questions and you will receive lots of tips and information!
Post written by Margaret River based Marriage Celebrant, Joanne Armstrong, of Wild Heart Celebrations.
Contact Joanne today via email, online form or phone+61 416 218 799.