Weddings Down South: Top 5 tips to bring you back in to the NOW
In my experience as an authorised marriage celebrant, I often learn about different stress points that affect couples in the lead up to their ceremony.
Getting married or having any kind of ceremony for that matter, can be HIGHLY stressful for some. It is often a big strain financially, the involvement of family and friends can play a bit of havoc, it is a test on a couple's relationship in itself plus many people have never organised a tea party let alone a ceremony or a wedding event – and it can all become quite overwhelming.
What to do?
I am fortunate to live Margaret River, an exquisite country town in Western Australia, that is host to many great businesses that focus purely on how to de-stress.
Given this wonderful access to a diverse pool of natural, medicinal and psychological healing opportunities, I got chatting to some of the region's best.
I shall be happy to share information provided by businesses in Margaret River and beyond, which play a big role in helping couples unwind in preparation for their Down South Weddings.
You will have the opportunity to gleam some wonderful tips on how to de-stress which can be implemented in the lead up to your big day. Contributors who have been kind enough to share their experience have deliberately thought outside of the square and offered insights from their personal experience and delved deep to provide clever little tips to keep couples on track.
The first of the rank are tips provided by
Kaylie Porter-Smith
Founder of Wholesome Life –  Retreats and Travel.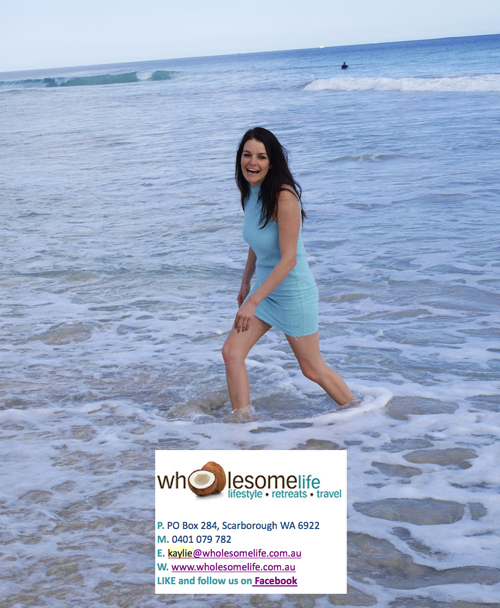 Top 5 tips to bring you back in to the NOW and de-stress
You are about to get married! It should be a time of celebration, joy and true love. Here are a few light-hearted tips to keep your love and connection flowing, not only within yourself but one another.
This is what I have learnt and still learning…
Get back to basics
Life can be complicated. It is our choice what pace we take. When we look into the future it creates overwhelming to do lists, anxiety builds from the unknown or emotional drama may erupt. Simply breathe. Bring yourself back into the moment. Let go of what you can't control. Allow the flow to come more naturally, and most importantly, take a moment to SLOW DOWN.
So what makes you feel good? What makes your partner feel good? Maybe its a night in the kitchen cooking, in the garden creating or just connecting outdoors in the fresh air. When it all feels like too much get some fresh air, BREATHE, and even take some quiet time out for you, to get your own energy back. When you feel your best, you radiate and after all I am sure that is what your partner fell in love with for.
Get committed
How you feel, is an inside job. No one is responsible for your emotional, mental, or physical state except you. It's special to find your soul mate, intimacy and be co-creating together, but it is your responsibility to not loose YOU along the way. Stay authentic and true to you.
So get committed to you first. If you aren't committed to you, then how is someone else meant to be? Start by taking some time to nourish your body and soul. It might be a regular massage, lavender oil bath, a yoga session, walk on the beach or around the park to help bring you back into YOU. Having solo time is important and allowing your partner to do the same, so encourage one another to have some time out to do what they LOVE. This is focusing on healthy boundaries and when you come back together, you might just find you have more time to LISTEN and hear the heart desires of your partner. Its ok and healthy to have some time apart as long as you come back to a mutual space to connect again.
Get physical
Go for a run, cycle, jump in the ocean, try a yoga or Pilates session… get your body moving. It helps from getting too caught up in your mind and gets you out of your unhealthy habits.
Work too much, getting caught up in technology too much, drinking becoming more a stress release or just thinking too much? Be aware of what is stopping you or any excuses around this.
Better still grab your partner and do something to get your body and energy flowing together. You will look and feel great at your wedding, and it might just turn up the heat when the lights go out.
Get connected
Amongst the busyness make sure you set aside some QUALITY time together. This might be physically being there but it is important to provide emotional support for your partner too. Take the time to be present and listen to one another. Create a space without any distractions where you can just be with one another. It may be date night, a weekend away, try a yoga class together to help both of you ground and connect.
Be creative and open that space to really hear one another. Let go of any control or learn to speak up more, honour one another's opinions and you will both feel equally worthy. It's often the simplest things we value the most. Speak to one another through our values and may be send a surprise their way now and then. You never know where this openness may lead you. After all, all we want is to give LOVE and be LOVEABLE. Keep your connection alive!
Get excited
Have some fun, adventure and bring back your playfulness together. You are about to deepen your connection, so embrace it!
Your wedding is a celebration of your two souls connecting. It's not about anyone else. Keep it a sacred union between the two of you. Even if there a few too many outside opinions in the wedding plans. Always remember to find that JOY in the moment, with each other.
Contact Kaylie kaylie@wholesomelife.com.au or www.wholesomelife.com.au