Getting Married in Bali – Wedding Celebrant Joanne Armstrong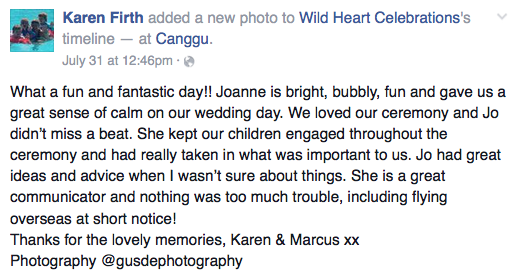 Another beautiful Bali ceremony but one which was absolutely focused on family – intimate, beautiful and relaxed! Had so much fun and it was all over far too quickly.
If you are considering getting married in Bali, Joane Armstrong will be happy to discuss the legalities and provide full guidance on weddings and all other types of ceremonies.
If you are Australian wanting to get married in Bali, it is very important to understand the benefits as well as other hurdles you could potentially cross.
Chatting to a professional wedding celebrant based in Australia will ensure that your day is exactly as you dreamed plus the paperwork does not come back to you null and void!
Contact Wedding Celebrant Joanne Armstrong via email, online form or phone +61 416 218 799.