Margaret River based Marriage Celebrant – brings out the best in you!
Hi Joanne, I just wanted to say a huge thank you for the amazing job you did as our beautiful celebrant for our wedding on 28.02.15.
From the first meeting to the wedding day you were 100% on the ball with massive attention to detail. We asked you for a fun, non traditional ceremony & for the day to be like a big party.
The first time we met you and we explained what we wanted, you said to us 'Why should the party start at the reception, the whole day should be a fun, uplifting experience, not just people waiting for the drinks to flow for the party to start', we knew then that you were the celebrant to best represent us & our relationship.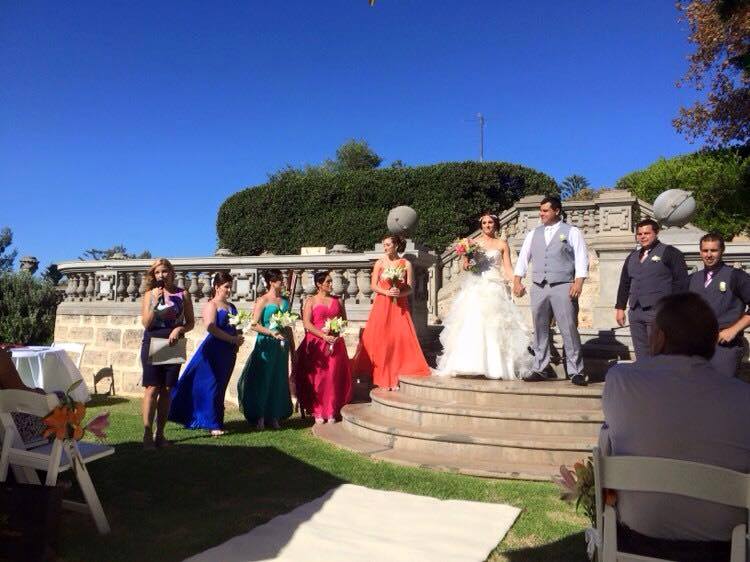 Joanne Armstrong, Margaret River based Marriage Celebrant, is extremely thorough in getting the information from you that she requires, with multiple emails & phone calls (from both ends) covering everything making the ceremony more personal in the end. Jo went to the effort to find out information about our families, friends & wedding party to include special people & experiences close to our hearts.
Jo encouraged us to write our own vows & dig deep to make the day unique and from our own hearts & we are so glad that we did as we will never forget the personal words exchanged on our special day. Jo really created the colourful, fun, unique ceremony we were after and at the same time created a heartfelt, personal, in depth insight into our love and relationship.
I couldn't recommend Jo more, regardless of whether you are looking for a trendy ceremony similar to ours, or a modest, more traditional ceremony, whatever the theme or style, Jo will fit the mould to suit you (even down to the outfit she wears!).
Joanne's beautiful nature & approach to the way she works truly proves she will create the ceremony that is best suited to you.
We not only found a perfect celebrant, we made a good friend.
Thanks Jo for truly bringing out the best in us for the best day of our lives xx