Ready, Set, WEDDING!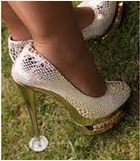 I am really excited about this weekends wedding. As if to reinforce the fact that it is Spring, or Sprummer as some have started to call it, it looks like we will have azure blue skies and a top of 32 degrees Celsius.
The wedding is taking place at a secret Swan Valley location where the restaurant provides sweeping views over a lake and vineyard. As the ceremony will be outside on the grass, I have recommended the bridesmaids and maid-of-honour wear starlettos.
If you haven't yet discovered these fabulous accessories and hate sinking in grass when you're strutting around in stilettos – starlettos are the solution!
No doubt the girls will be testing these out today when we have the rehearsal. It may seem trivial but the end result is that each bridesmaid will be focusing on walking with her head held high and with confidence rather than worrying about when they're going to trip or sink.