Simply Unique Wedding Ceremonies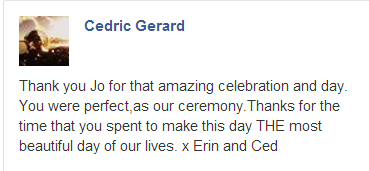 No matter what type of ceremony, I can most certainly help. Regardless of whether you're after a simple ceremony or something that is detailed, I do prefer personalising it so that the event is still very special. As each wedding is bespoke, I also price accordingly once I have a little more information.
This Winter, I conducted a beautiful, simple, relaxed wedding ceremony for friends in a park. It was a sunny morning and my friends and their family had set up an area of Hyde Park, Perth, with an intimate and rustic picnic spot.
It was a magnificent morning. I remember the exchange of heart felt words and laughter, plus the sound of birds and feeling of the warmth of the sun on us. As we went through the proceeding in front of a small group of their closest friends and families, it reinforced the simplicity of love and that a simple wedding ceremony can be equally relaxed and rewarding.