Wedding Ceremonies Down South: Mammoth Cave
Why do I love Wedding Ceremonies Down South so much?
Particularly Mammoth Cave? Lake Caves Deck … or any cave for that matter? And there are so many in south western Western Australia.
This astonishing cave is for couples that are:
slightly batty, like nature and do exactly what they want for their wedding day!
Mammoth Cave is a large, awe inspiring, limestone cave. It's located 21 km south of the town of Margaret River about 300 km south of Perth. Mammoth and the series of other caves are very close to where I live and you can see this starred below. I feel fortuitous to be on the very doorstep of so many amazing natural attributes! You would be mad not to consider all of the options.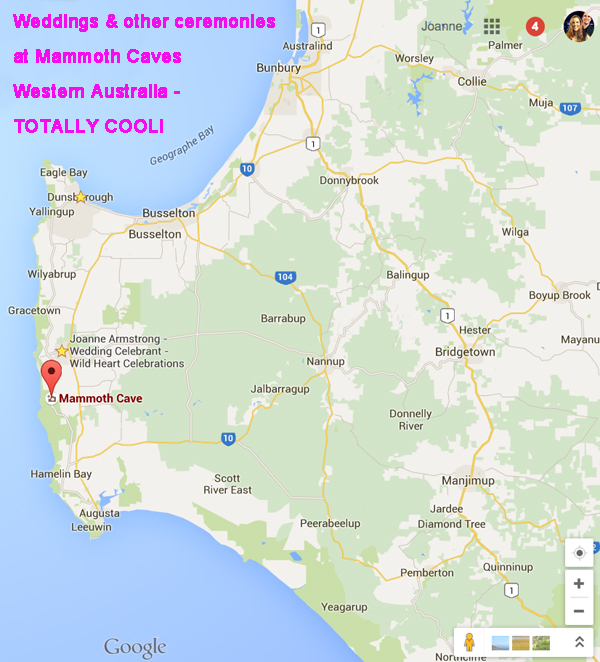 So whether you're coming from Perth or further afield, it's worth visiting. Worth the drive.
Speaking of the drive…Mammoth Cave lies within the Leeuwin-Naturaliste National Park and is surrounded by Karri and Marri forest.So even the drive there and back for couples and their guests (or perhaps the couple are just eloping and have only themselves and two witnesses!) is wondrously entertaining.
Other reasons I encourage couples to consider getting married in Mammoth Cave – or any cave
It is an all year option.  But better yet, it is perfect in winter! No need to drizzle about the drizzle! It doesn't matter if it rains and your "Plan B" is sorted.
Not quite sure when … it wasnt long ago…. Mammoth Cave was ranked No.5 on TripAdvisor among 70 attractions in Margaret River.
It is an experience as well as an activity. Think of it like this: you are not just getting married in a cave but exploring it! My couples have arranged the ability for their guests to have fun straight after the ceremony with mini tours. This has been cool for 3 purposes: the wedding have got such a nice unpredictable surprise 2) it has allowing enough distraction for the newly weds to slip away and get some incredible wedding shots and 3) No on ever ever ever forgets a wedding where they actually DID something. And something so cool as to just experience a wedding in a cave, even if they never toured!
The finer details are considered. With weddings in the wilderness, there has to be planning and foresaking what Mother Nature is going to throw at you. Caves …. now caves are COLD. It has not been uncommon at my wedding ceremonies in caves to include a lot of blankets and a little bit of fuss about rugging up properly. Between vows there has been the chattering of teeth. The bride even has to consider having a way of rugging up and so you see, blankets go a long way and "make the experience". I mean, how many weddings have you been too rugged up in a blanket?
There is flexibility. The first wedding that I conducted at Mammoth Cave was in August 2015 and despite the official closing hours of 5pm, staff there enabled us to enjoy there ceremony without being ushered out or feeling rushed.
For "creative minds" – and by this I do not necessarily mean couples who are seeking a themed wedding – it's the sort of location where you can really tell a good story.
Tips for the best ceremonies at Mammoth Cave
Accessibility needs to be considered for those less mobile because of the need to walk on metallic boards and there are a number of steps. Depending on where you get married in Mammoth Cave, there are some stairs to climb between each "chamber".
Lighting – can be very challenging. Invest in a good photographer that not only focuses on bridal but also landscape photography.
I would be happy to recommend a long list of photographers that know how to get around challenges like poor lighting and accomplish breath taking results.
Dress warmly and wear comfortable clothes and shoes because wearing flimsy attire and stilettos is not daft. Or, wear it but then be prepared to either keep it snappy or "cave in" and have to put on a jacket!
Drive safely along Caves Road. At 90km per hour, the speed limit is pretty high for such a winding road. And which people speed. Visitors to the region do not drive to conditions too. Please keep vigilant when driving WA roads too for personal safety as well as that of our beloved wildlife.
Finally, get in touch with … ME! Er…um….a wedding cannot take place without a wedding celebrant and I know just the one for any cave wedding! The very thought that a couple has considered the charming idea of getting married in a cave…simply warms the cockles of my beating heart!
Contact Mammoth Cave: +61 8 9780 5911
…
If you are interested in booking your wedding ceremony or other even in Margaret River and surrounds, or even overseas, do not hesitate in asking questions and you will receive lots of tips and information!
Post written by Margaret River based Marriage Celebrant, Joanne Armstrong, of Wild Heart Celebrations.
Contact Joanne today via email, online form or phone+61 416 218 799.