Weddings in Yallingup: Ten reasons why its so tempting to couples around the world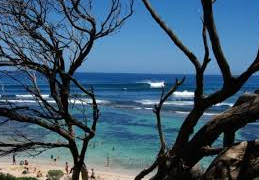 Trivago, a popular hotel search website, has just listed our beautiful seaside town of Yallingup Australia's top hotel holiday destination!
A recent article in WA Today also highlights beautiful wedding venues and other ideas you may be interested in if the Great Southern is on your list of options for a ceremony. Read more Yallingup named top hotel holiday spot in Australia.
So we know that there are great hotel and wedding venues…but what is there to do if you visit this exquisite part of Western Australia? If you were to consider it as a destination wedding, what could you entice your guests with so that they are eager to make the journey over?
I think the easiest is if I direct you to a favourite website of mine which features lots of information for everyone. Geographe Bay Tourism Association has listed the 10 top attractions.
As if going to your wedding was not enough!
Discover the underground wonderland of Ngilgi Cave
Ngilgi Cave is one of Western Australia's first tourist attractions, and inside is a comfortable 28°C all year round. Try the Semi Guided Show Cave Tour to explore at your own pace, or venture off the boardwalks on an adrenalin-pumping adventure tour.
2.    Watch a Yallingup sunset
Yallingup is "the place of love", so we highly recommend enjoying a romantic sunset during your visit! The west-facing main beach is the perfect spot to watch the early evening sky put on a breathtaking show.
Find your way on our regional map >
3.    Go wine tasting five minutes from the beach
(Image: Aravina Estate)
One of our favourite weekend pass times: Spending the morning swimming in crystal clear waters at the beach, before heading just a few minutes down the road to a cellar door to sip the latest award-winning Chardonnay or Cabernet Sauvignon.
See our full list of wineries and find our beaches on our regional map >
4.    Check out the local art galleries
(Image: Gunyulgup Galleries)
Yallingup is one of Western Australia's most creative hubs. Explore this art lover's paradise and discover galleries set against spectacular scenery or hidden away in bushland. You'll find creations by local artists, painters, sculptors, jewellers, furniture craftsmen…  the list is endless!
Search our galleries and artisans here >
5.    Getting pampered at the luxurious day spas and retreats
(Image: Injidup Spa Retreat)
Yallingup is a mecca for anyone who loves to indulge in a luxurious spa escape. Spectacular bushland or ocean views will surround you as you switch off and drift away.
6.    Take on epic surf breaks
Yallingup Beach offers  the excellent Yallingup Mainbreak and Rabbits breaks. Close by there's also Smiths, Three Bears, Super Tubes and Injidup… to name just a few!
Find our surf spots on our regional map >
7.    Get a taste of Aboriginal culture
(Image: Wardan Aboriginal Cultural Centre)
Local Aboriginal cultural tours are run by Koomal Dreaming and Wardan Aboriginal Cultural Centre. Look out for twilight didgeridoo tours, boomerang throwing classes and bush stories trail tours.
8.    Feed the animals
(Image: Wonky Windmill Farm and Eco Park)
Set among rich farmland, Yallingup offers some gorgeous opportunities for the kids to meet new fluffy friends. Yallingup Shearing Shed, Wonky Windmill Farm and Eco Park and Country Life Farm are all a fantastic family day out.
Search for family attractions in Yallingup >
9.    Take a short walk on the Cape to Cape Track
See the best of Yallingup's coastline by walking a section of the region's famous Cape to Cape Track. We recommend taking the 9km walk from Yallingup to Sugarloaf Rock to enjoy wonderful cliff top views. Detailed maps are available from your nearest visitor centre.
More about the Cape to Cape Track >
10.    Relax with family beach time
Yallingup beach is equipped with a children's playground, shower/toilet facilities and ample parking. There are also free BBQs with tremendous ocean views. Head over there late afternoon for a family dinner and you may be lucky enough to see dolphins swimming in the waters below.