Wise Weddings Eagle Bay: Breathtaking!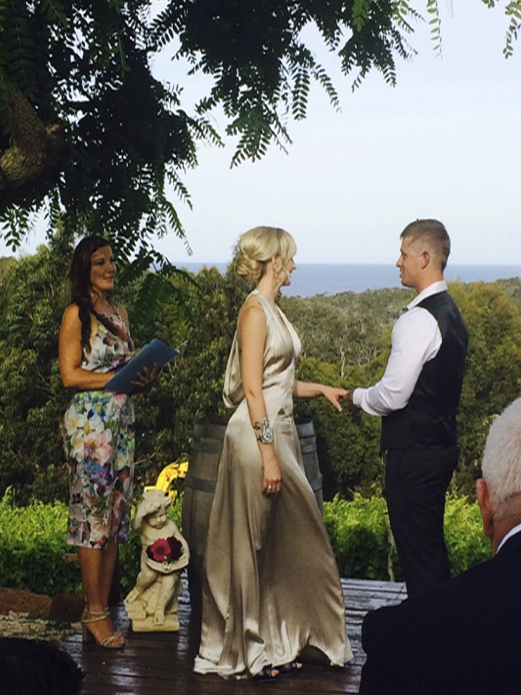 I married two beautiful (and cheeky) souls in my first Wise Wedding, overlooking breathtaking views of the Western shore of Geographe Bay.
My drive yesterday to Wise Vineyard Restaurant took me through Meelup Regional Park. I love this park.
I am used to gasping at the view. I am familiar with driving past some of my favourite local beaches (Castle Rock, Meelup, Eagle Bay).
I am all too appreciative of the splendid haunts that hidden like gems within the bushland.
Having conducted a number of beach weddings in this region, it's been second nature to recommend spots to couples but … yesterday was my first Wise Wedding. I commenced by taking a deep breath and then saying: I would like to show my respect and Acknowledge the Wardandi people, the Traditional Custodians of the Land, of Elders past and present, on which this meeting takes place. How can you not love this location? Views of sparkling calm clear water and white sandy beaches – the opportunity for all of you to indulge in each others company in lush green shady areas as well as sunshine.
It is a Wise Wedding I shall never forget! Not just because of the venue which I would not hesitate in recommending to anyone, but because the couple sealing the deal were absolutely down to earth, fun, genuine, cheeky and sentimental. A Wise Wedding SUCCESS!
Wedding Testimonial – Katie-Maree Ninyette with Tyson Ninyette and Joanne Armstrong at Wise Wine.
"Okies.. Time for a status update.. HOW MUCH FUN WAS THAT!! We had an absolute ball! Joanne Armstrong . . .You are an absolute ANGEL!! Thank you so much for making the ceremony hilarious!! And the night itself was entertaining to say the least!! Everything was amazing and we are so so grateful! Woooooooo……".
Contact Margaret River based Wedding Celebrant Joanne Armstrong
via email, online form or phone +61 416 218 799.